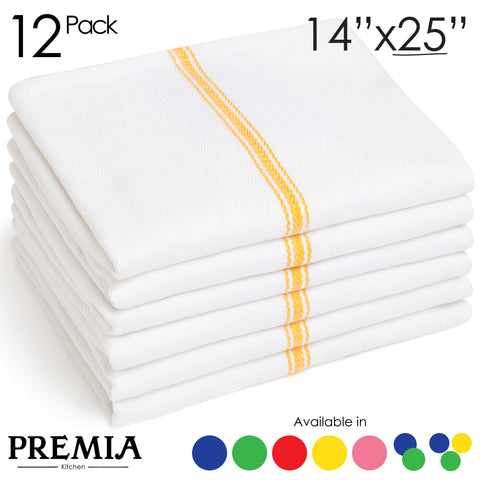 Yellow - 1-Ply Cotton
Yellow Center Stripe
Restaurant Quality Commercial Towels
Material:        100% Cotton
Weight:           24oz per dozen
Thread:           1-Ply yarn
Weave:            Herringbone
Absorbency:   Commercial Grade
Quantity:         13 Units per package
Size:                14 x 25 inches*

More Info: 
These towels are commercial quality, which means that they are not fluffy decorative towels. Rather, these towels are meant to be used in fast-paced kitchens were constant wiping and drying take place.  

Commercial Grade 
• Commercial towels are thin and light, highly absorbent, fast drying, and produce minimal lint.
• Bleach safe
• 24 oz/dz weave. Heavier than 20 oz/dz economy towels.
• Sewn edges on all four sides. 
Premia Quality at Wholesale Pricing 
• Flexible quantities - order in multiples of 12 towels. 
• Contact us for special pricing on larger wholesale orders or special packaging/private label. 
The Green Alternative to Paper Towels 
• Save money: Buy fewer paper towels. 
• Save the environment: Produce less waste. 

Perfect Size for All Types of Kitchen Duties 
• Dry silverware, dishes and stemware fast and easily. 
• Dry fruit and produce. 
• Cover bread dough, freshly baked bread, and cold meat cuts. 
• Can be used as placemats and BBQ or lobster napkins. 

Multiple Other Uses 
• Great towel for home bars. 
• Hand towel for workshop, garage and car. 
• Ideal gym/workout towel. Keep a few in your gym bag. 
• Great for shaving, drying razors and cleaning the counter/sink. 
• Clean windows, mirrors and computer screens.   

Join our Growing List of Customers 
• Food Service: Restaurants, bars, coffee shops, caterers, 
• Institutions/Public Services: Hospitals, schools, houses of worship, fire stations. 
• Hotels/Resorts

Washing and Care Instructions 
• Wash towels before first use.  Towels will become softer, thicker and more absorbent after washing. 
• Wash towels in cold or hot water.
• Bleach safe. 
• Do not use fabric softener.
• Dry towels in low heat/delicate cycle to minimize shrinkage.
  
(*) These towels are known as 15"x26" in industry-defined cut size prior to processing, including fine cutting and hemming. After hemming, these towels average approximately 14"-15" in width and 24"-26" in length.
---
We Also Recommend