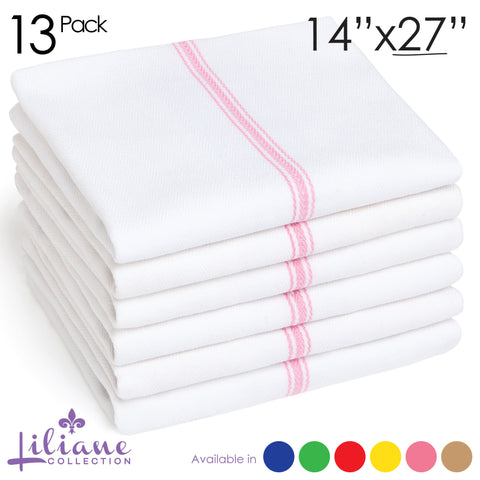 Pink - 2-Ply Cotton
Pink Center Stripe
Home Quality Commercial Towels
Material:         100% Cotton
Weight:           27oz per dozen
Thread:           2-Ply yarn
Weave:            Herringbone
Absorbency:   Commercial Grade
Quantity:         13 Units per package
Size:                14 x 27 inches*

More Info: 
These towels are commercial quality, which means that they are not fluffy decorative towels. Rather, these towels were designed for the serious kitchen aficionado and are based on the design favored by most of our nation's large restaurant kitchens.

Commercial Grade 
• Commercial towels are thin and light, highly absorbent, fast drying, and produce minimal lint.
• Bleach safe.
• 27 oz/dz weave. Heavier than economy 20 oz/dz or regular 24 oz/dz towels.
• Sewn edges on all four sides. 

Home Quality Dish Towels 
• These towels are our best quality commercial herringbone towels, modified specifically for the home user.
• 2-ply cotton yarn make these towels softer than typical commercial towels.
• These towels are approximately 2 inches longer than typical restaurant kitchen towels to make them more convenient for the home user.
Liliane Collection Quality at Wholesale Pricing 
• Flexible quantities - order in multiples of 13 towels. 
• Contact us for special pricing on larger wholesale orders or special packaging/private label. 
The Green Alternative to Paper Towels 
• Save money: Buy fewer paper towels. 
• Save the environment: Produce less waste. 

Perfect Size for All Types of Kitchen Duties 
• Dry silverware, dishes and stemware fast and easily. 
• Dry fruit and produce. 
• Cover bread dough, freshly baked bread, and cold meat cuts. 
• Can be used as placemats and BBQ or lobster napkins. 

Multiple Other Uses 
• Great towel for home bars. 
• Hand towel for workshop, garage and car. 
• Ideal gym/workout towel. Keep a few in your gym bag. 
• Great for shaving, drying razors and cleaning the counter/sink. 
• Clean windows, mirrors and computer screens.   

Join our Growing List of Customers: 
• Food Service: Restaurants, bars, coffee shops. 
• Institutions/Public Services: Hospitals, schools, houses of worship, fire stations. 
• Businesses: Trucking companies, caterers. 

Washing and Care Instructions 
• Wash towels before first use.  Towels will become softer, thicker and more absorbent after washing. 
• Wash towels in cold or hot water.
• Bleach safe. 
• Do not use fabric softener.
• Dry towels in low heat/delicate cycle to minimize shrinkage.
  
(*) These towels are known as 15"x29" in industry-defined cut size prior to processing, including fine cutting and hemming. After hemming, these towels average approximately 14"-15" in width and 26"-28" in length.